I saw  that quote in Microsoft's 1st Quarter 2021 report last week and wondered how that will affect the death care industry.  That's not a unique thought for me because if you've followed my writing for any length of time you know that I like to look at other industries and then take what they are learning and try to figure out how it will eventually affect us.
I think what Microsoft had to say speaks volumes to how we in our profession need to connect with future clientele.  I also caught some comments from other big names that might be able to give our industry some insights into inflation and acquisitions.
To be true, the complete quote from Microsoft was this, "Over a year into the pandemic, digital adoption curves aren't slowing down.  They're accelerating, and it's just the beginning."  I think that quote is pretty telling about how we are going to reach our potential clientele in the future. . . and just to be explicit. . . that future may be now.
Another couple of items about "digital adoption" that shows a continuing fast growing trendline are these:
Facebook's ad revenue rose 48% last quarter in year over year comparisons.  Here is a quote from an analyst covering Facebook, "Of particular note was Facebook's ad business, where sales were driven by a 30% increase in average price per ad along with a 12% gain in the number of ads delivered."
Also, Apple reported "double-digit" growth in every single one of its product categories.  To me, that tells me that people are really spending consumer money on "digital".
Getting your message out via "Marketing" is key to any business.  I'm old school and some of the trends are passing me by. . . . I knew television, radio, newspaper, and yellow page advertising and how consumers used it very well.  However, if that is all I did today for my funeral home I believe that I would be missing a major portion of my potential clientele.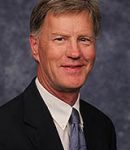 I've mentioned before that I have Chaired two non-profit senior living organizations, and still chair one of them.  I'm amazed when our marketing department executives sit at a board meeting and report on how they are data digging into the web to get clientele for our home care and hospice services.  It's not about "gut feel" anymore. . . it's about science and technology.
To be sure, you need a little "gut feel" every once in a while  As Funeral Director Daily recently had marketing expert Joe Weigel tell us in this article that, " Just to be clear, traditional media still should play a role in funeral home marketing.  Not everyone uses Facebook and not everyone who uses Facebook follows funeral homes.  Local newspapers, as well as TV & cable networks, should be considered as part of the marketing plan."
However, Weigel also stated that if you haven't started yet, it is time to get with social media marketing.  If not using it,  you're missing clientele.  I might suggest you talk to Weigel at Weigel Strategic Marketing or another expert on social media use, Welton Hong at Ring Ring Marketing.
Inflation:  Last week we noticed this comment from Patrick Leary, Chief Market Strategist at Incapital.  "All arrows are pointing to another increase in inflationary pressures. . . . .While I won't say whether or not the inflation we are seeing right now will indeed be transitory or more sustained, I am willing to bet that it will go higher and persist longer than the market will tolerate."
At Funeral Director Daily, I also see a world where there is great pressure in prices going up.  If you are a funeral home that can contract for long term fixed prices with certain supply items, this might be a time you would explore looking at that.
Acquisitions:  It was interesting to hear on Saturday that Berkshire Hathaway, the public company operated by Warren Buffet was using excess capital to buy back shares of stock.  First of all, it tells you that he believes that the stock price will go up because there is no money to be made if the price goes down.
More important to us, however, was a reason he mentioned that "acquisitions are getting more and more competitive".  Given the option of acquisitions or investment in his current company, he is choosing investment in his company for the time being.
At Funeral Director Daily we had envisioned the latter half of 2021, especially if we are in a post-pandemic world, to be quite active in the funeral  acquisition realm.  While not specific to the funeral business, Buffet seems to indicate that prices are getting higher than he is willing to pay.  It will be interesting to see how that plays out in the funeral home business.
More news from the world of Death Care:
Enter your e-mail below t0 join the 2,009 others who receive Funeral Director Daily articles daily: